Something I've thought about from time to time.
I've now decided to create a topic that will encompass
all swords
, whether magical, mythical, pixelated, actual, priceless or just simply famous. If you know of a sword and it is worthy enough .. you will quite possibly find it somewhere on here. Now or in the future.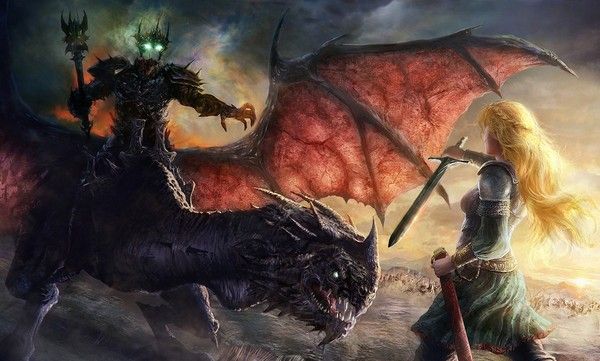 (what else would you attempt to defeat the Nazgul leader with?)
Here's the thing:
What makes a sword powerful or
'the best'
?
Its all very subjective ..
some would say that the look of the thing really is a major part, that the timing in which the weapon is used is extremely crucial. If you're a general on horseback leading your troops towards an oppressive army .. what better show of force could there be than an already drawn beautifully shiny and deadly looking sword. Proving to your own troops that you expect hand to hand confrontation and that you are not afraid? :
Then there are lots of people that put emphasis on the wielder of the weapon .. some even saying that the wielder is the main reason for the success of the blade itself (hmmmm) :
Well lets put all of this to the test (the rules):
Starting right now and then ongoing each week we will have a duel of words between two swords of my choice. Each person is allowed a vote for one of the blades. Please try to give a reason, even a brief one, as it will help keep discussion flowing regarding the two blades battling it out. By all means discuss swords in general, but try to keep the thread from derailing and
nothing whatsoever to do with things non sword related
.
Please feel free to PM me regarding swords you want to see. Chances are I already have them earmarked for a forthcoming duel .. I'll be eternally grateful & honest with a PM + thanks in the thread if thats not the case.
Finally we will have a vote for our favourite 3 (in order) of all dual winners. This will indicate our top 3 swords and our chosen
'best sword in the world ever!'
! !!!!!
NOW FOR AN EPIC DUEL TO START:
For our first sword we have one that is definitely part of our reality that has a very mystical past:
Muramasa katanas
Made by an ancient Japanese swordsmith:
Muramasa Sengo was a swordsmith who lived during the Muramachi period (between the 14th and 16th centuries A.D.).
Links with another very famous Japanese swordsmith (mystical, magical tales):
In some legends, Muramasa is portrayed as a disciple of Masamune, though this is historically impossible, as Masamune lived several centuries before his alleged student.
The maker was reportedly mad:
Muramasa has been described as 'completely mad and prone to bouts of violence'. It was therefore believed that these destructive qualities were passed by the master swordsmith into the blades he forged. The blades would then 'possess' their wielders, turning them into insane and deadly warriors, just like Muramasa himself.
Mystical tales of the blades themselves:
In one legend, Muramasa, who is said to be a disciple of Masamune, challenges his master to a sword-making competition. This was to determine who the greatest swordsmith in the country was. After both swordsmiths had completed their blades, they prepared to test their weapons. Both blades were suspended in a stream with the sharp edge facing the current. Muramasa's blade cut everything that passed it, including the fish, leaves and even the air.
The swords became banned due to actual events (cursed?):
Shogun Tokugawa Ieyasu condemned the swords after they killed nearly all of his family. The shogun's father, Matsudaira Hirotada, and grandfather, Matsudaira Kiyoyasu, were both murdered by their retainers who were wielding Muramasa blades. The shogun himself was also cut by a (supposed) Muramasa blade whilst inspecting the
yari
(a Japanese type of spear) of one of his generals.
People resisted the ban and became overwhelmed by their sheer existence:
Takanak Ume, the Magistrate of Nagasaki in 1634, was discovered to have hoarded 24 Muramasa blades, and thus was ordered to commit
'seppuku'
(ritual suicide by disembowelment). Despite such extreme punishments, people continued to keep Muramasa blades.
Finally, so famous they became part of popular culture:
Now we need a fitting rival:
What is that?! you may ask .. well it is a perfectly formed replica of:
He Man's Power Sword
Wielded by a Prince:
Adam of Eternia, resides in Castle Grayskull and is without a doubt a prince more worthy than most.
Magic is contained within:
Adam discovered this by chance uttering only the name of the sword and his current location. "By the Power of Grayskull"
Turns Adam's cowardly green tiger into a fierce fighting beast able to be ridden:
Initially split into two halves (Epic Quest to find the pieces and obtain the sword):
The Power Sword appears as early as the
He-Man and the Power Sword
book(before the cartoons). Totally evil villain, Skeletor who happens to be He Man's arch enemy, finds one half of the power sword and tries to acquire the other half of the sword hidden inside Castle Grayskull to gain the sword's total power... adding that "the magic fires, created by ancient scientists and sorcerers, will blaze again" once the two halves are joined.
Powers of manipulation and more:
The Power Sword can be used to open a hole in the dimensional wall. The wielder of the Power Sword is able to use its power over various objects to attack whoever or whatever the wielder chooses.
Its also a key:
the Power Sword is the only key that can open Castle Grayskull's 'Jaw-Bridge' when inserted into an enchanted lock.
Keys, curses, precision blade or magical weapon ... which one do you choose? or wait until discussion has helped your decision before you place your vote? Either way I will vote each Tuesday .. the final votes will be counted and verified on Thursday evening. Two new swords will duel off against each other every Friday. Happy voting ...
Muramasa katanas
or
He Man's Power Sword
?
THE BEST SWORD EVER:
The Lightsaber
THE BEST RUNNERS UP EVER:
Excalibur
Soul Edge
THE OTHER FINALISTS:
The Monado
Beam Katana
Meowmere
Red Scissor Blade
The Power Sword of Grayskull
The Masamune katanas
Andúril